10 Steps to Booking a Romantic Couples Escape in Barbados
10 Steps to Booking a Romantic Couples Escape in Barbados
Fall in love all over again in beautiful Barbados. Barbados boasts romantic sunsets, fabulous five-star restaurants, many charming things to do and breathtaking accommodation options. Everything you need for a relaxing retreat to recharge with your loved one. 
Follow our 10 step guide to planning and booking your intimate escape to Barbados this year. Email our team at info@realtorslimited.com to book your accommodation, activities, rental car and more. We 
1. Choose your Dream Destination – Barbados
Barbados is a popular destination for couples looking for an unforgettable honeymoon, destination wedding, vow renewal or simple escape together. This stunning Caribbean Island offers more than just beautiful beaches. Enjoy the night life, restaurants, and stunning villas, or get lost in the natural beauty of Hunte's Garden, The Animal Flower Cave or on an island tour. Couples who enjoy a little adventure can sign up for surf lessons, or you can keep things slow with a relaxing sunset catamaran sail. Not only will you fall in love all over again in Barbados, but you will fall in love with this charming island too.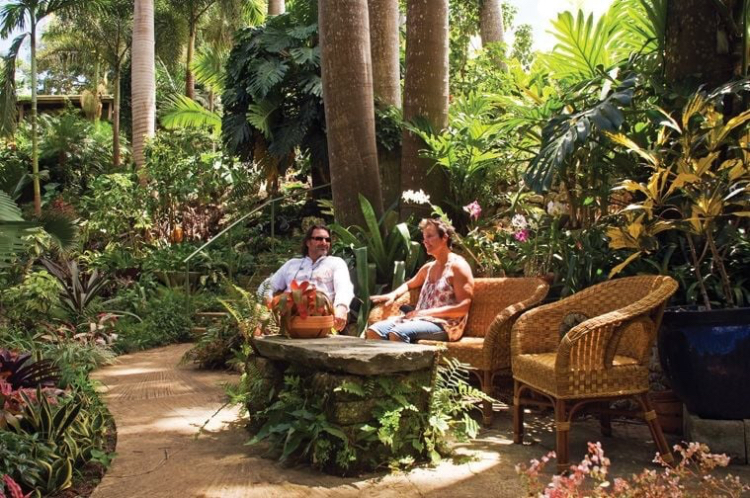 2. Decide when you will visit 
Visit Barbados during the 'off season' summer months between April and November. The island is quieter this time of year making it more of an escape. Beaches are peaceful for your morning walks, and it is easier to get reservations at some of the islands most popular restaurants. Another perk to traveling in the summer is the lower prices on everything from activities on island, air travel and accommodation of course!
We are currently offering 15% OFF stays of 7 nights or more (at select villas) when you stay between April 16thand November 15th 2023. Email our team at info@realtorslimited.com for more details on our 2023 Summer Specials. 
Barbados has many stunning holiday rentals great for your couples retreat. Stay in a one bedroom like the Beachfront Glitter Bay, or travel with a group of other couples and stay in a bigger villa. Our beachfront and luxury villas are top choices for groups who hope to enjoy all the amenities and services offered through a hotel but from the privacy of your villa. Most villas are fully staffed, have private pools and access to our concierge team to help with your bookings or to make suggestions to help improve your stay. Here are eight of our top accommodation options. Click the name for more details and photos of each. 
Beachfront Villas Great for Couples:
Little Good Harbour House – 2 / 3 bedrooms from $550 USD/ night
Secret Cove 2 – 2 bedrooms from $550 USD / night
The One at The St James – 5 bedrooms from $1,250 USD / night
Shoestring – 3 bedrooms from $1,400 USD / night
Sandy Lane Luxury Villas Great for Couples:
Moon Dance, Sandy Lane – 6 bedrooms from $1,300 USD / night
Villa Aama, Sandy Lane – 7 bedrooms from $3,750 USD / night
Point of View, Sandy Lane – 5 bedrooms from $3,000 USD / night
Elsewhere, Sandy Lane – 10 bedrooms from $4,500 USD / night
Email our team at info@realtorslimited.com to book your Barbados holiday rental today.
4. Choose your flights
Barbados is very accessible with direct flights from many major hubs including Miami and New York in the US and London and Manchester in the UK. There are also daily flights from Toronto and weekly flights from many parts of Europe and the rest of the world. Book your flights in advance for the best prices and don't forget to look at booking with air miles if you collect them. Barbados has flights with the following major airlines: Air Canada, WestJet, JetBlue, American Airlines, United, KLM, British Airways, Virgin Atlantic, Aer Lingas, Condor, COPA and Caribbean Airlines. 
5. Pack the essentials 
Pack light, you don't need much for a romantic escape to this island. Be sure to pack a couple of swimsuits and beach wear, a date night outfit and comfortable, light everyday clothes along with your toiletries and daily essentials. We recommend bringing sunscreen and a reusable water bottle with a day bag for your daily activities. Your accommodation will provide beach towels. Other than that, just bring your excitement and be ready for the vacation of a lifetime. 
6. Book your activities 
Not sure where to start when it comes to booking the right activities with the best tour providers? Our concierge team can help. We will get to know you and make recommendations based on your unique interests. If you're looking for the perfect blend of adventure and relaxation, then at Catamaran cruise is the date idea for you – the sunset cruises are extra romantic. We can also help book tours like the popular island tours, rum tasting tours and much more. 
Email us at info@realtorslimited and ask about our 'Romance Package' for a carefully curated collection of Barbados' best activities for couples. 
7. Make your dinner reservations 
Sitting down together to enjoy a meal together is a different kind of intimacy. Take a minute to really experience the taste of each food item. Try ordering different dishes and share, use this quiet time to really connect and talk with your partner. 
Barbados is known for its fabulous food from cheap street food eats to fine dining experiences. We recommend falling in love with the flavour of the island by trying a range of dining experiences. For cheaper cultural eats we recommend the local fish fry at Oistins, or fish cutters from Cuzz. For a relaxed night our guests love, Lonestar, Tides, Champers, The Local, QP Bistro and many more. 
8. Plan how you will get around
Looking for adventure? Get lost together on a self-guided island tour in a rental vehicle. Pack a picnic and go beach hoping and discover Barbados on your own. Our concierge team can arrange your rental car booking for you. Looking to relax? Hire a private driver or stick to taxis. Our team will be happy to help book airport transfers and drivers.
9. Get Creative
Daily life can get monotonous, spice things up on your Barbados holiday with creative date ideas. Start your day with a morning walk along the beach. Use this time to talk about what you have planned that day and take turns organizing activities.
Some unique date ideas include private hikes along the east coast, private painting or cooking classes and morning yoga at your villa. Our concierge team can arrange to have a masseuse come to your villa so you can enjoy a relaxing couples massage from the comfort of your private villa. Pack a picnic basket and head to the tropical Hunte's Garden for a setting unlike any other. When in doubt savour your love on a sunset stroll along a west coast beach. It doesn't take much to fall in love with beautiful Barbados is your backdrop.
10. Relax Together
This one might sound simple however it is very important! Our lives are so consumed by everything that is going on around us and on our devices, sometimes we forget to take a step back and simply enjoy each other's company. Spend a full day at your villa together, relaxing poolside or making cocktails for each other. Plan a day at the beach where you can just do nothing but be present in the moment and spend time with your loved one.
Tip – Put your phones facedown, in another room, on silent, so you aren't tempted to check them. Use the time to reconnect and enjoy being part of each other's lives.  
Barbados awaits, take the first step and reach out to our team at info@realtorslimited.com or view our rentals portfolio online at barbadosvillarentals.com.