A Month by Month Guide to Visiting Barbados
A Month by Month Guide to Visiting Barbados
When is the best time to visit Barbados you ask? Anytime - Barbados offers a unique experience year-round. Plan your trip around one of the many festivals or sporting events. Choose the slower summer months for the lowest rates on accommodation, tours and dining, or visit during the winter to escape to a perfect weather paradise. Here are two things you can look forward to each month.
January
Sailing Week 
The Caribbean's opening Regatta is held in Barbados every year. The Mount Gay Round Barbados Race gives crew members a chance to win their skipper's weight in rum (you read that right) if any of the 20 records are broken. Join a boat as a guest crew or watch the 'Around the Island' race from North Point; a favourite lookout spot.
Polo Season
Attend a match at one of the many beautiful Polo Clubs in Barbados. Battle of the Sexes at Holders Polo Club is our favourite. Polo season runs from January to May. Visit their Facebook page for more details on the 2023 schedule. 
February 
Holetown Festival
The first settlers arrived in Holetown Barbados on February 17, 1627. Today the Holetown festival is celebrated every February in remembrance. This week-long celebration of culture and Bajan traditions features local street food, parades and markets. An absolute must visit if you are on island at the time.
Agrofest 
Support local farmers and learn about Barbadian plants and animals at Barbados' largest exhibition, Agrofest. Every year Agrofest attracts over 60,000 local and international patrons, it is especially fun for the kids. Visit their Facebook page for more details, it's fun for the whole family! 
March 
Learn to Surf 
Barbados is the perfect place to learn to surf. There are many awesome surf schools at surf breaks perfect for beginners. In March the swells start to pick up a bit, so you are guaranteed great waves.
Hiking or Biking  
A cool light breeze blows over the island all March long making it a great month for exploring the outdoors. We recommend going on a guided hike or bike tour of the untouched east coast for views unlike any other. Our concierge team can help you book your adventure tours and guided hikes. Email us at info@realtorslimited.com for more details.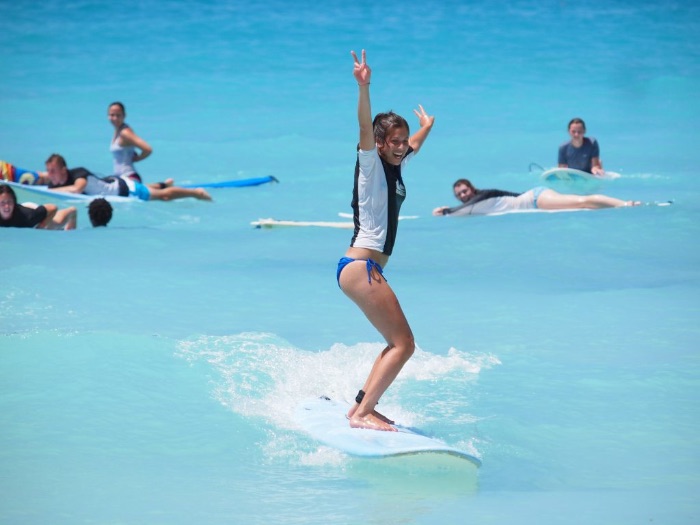 April 
Oistins Fish Festival
The largest community festival in Barbados is held every Easter weekend at the scenic fishing village of Oistins. Enjoy the fresh fish, local street food, music, crafts and the popular fish boning and grease pole competition. Oistins fish fry is the place to be year-round on Friday evenings.
Sir Garry Sobers Golf Festival
It's always a great time to golf at one of the five incredible golf courses in Barbados. April the annual Sir Garry Sobers Festival of Golf will be held at Sandy Lane, Royal Westmorland and the Barbados Golf Club, some of the top courses in the Caribbean.
May 
Island Safari Tour 
Hop in the back of an Island Safari 4X4 for the most adventurous way to explore Barbados. The off-roading tour around the island makes many scenic stops including a Bajan lunch stop. May is the perfect month for exploring as the weather is nice and cool and it is the last month of the dry season.
Grind Sugar Cane at Morgan Lewis 
Morgan Lewis Windmill is one of only two working windmills in the world today! During the crop season (February to July) the sails are added, and it runs for one Sunday each month grinding cane and creating cane juice. Throughout the week you can visit the mill museum and climb to the top of the mill or simply enjoy some treats from the café while you soak in the view.
June 
Sea Turtle Nesting Season
Barbados is a nesting ground for the endangered Hawksbill Sea Turtles. June is a peak nesting month for these beautiful sea animals. Most of the nesting takes place along Hastings Beach, right in front of the Condominiums at Palm Beach. Book your stay at Palm Beach to increase your chances of witnessing this miracle. Learn more on how you can help protect the sea turtles here.
Sol Rally 
Motorsport enthusiasts unite! Sol Rally is the most anticipated and dynamic three days of rally driving in Barbados with drivers from all over the world! This action-packed weekend attracts crowds to the countryside roads and Bushy Park racetrack. Visit their Facebook page for the latest updates. 
July
Crop Over Festival 
The Crop Over festival celebrates a 200-year-old traditional that honours the end of the sugar cane season. The 6-week festival features local arts, crafts, food, and of course parties and concerts. Learn more about Crop Over by reading our blog post on '10 Tips for Crop Over and 10 places to stay.'
Local Farmers Markets
July is fruit season in Barbados or more importantly mango season. Locals live for mango season and chefs will often find ways to incorporate mangoes and other local seasonal fruit into their dishes. We recommend visiting local markets like Brighton Farmers Market, Holders Market or Cheapside Market on a Saturday morning to try some fresh local fruits and vegetables.
August 
Kadooment Day (Carnival) 
The Crop Over Festival comes to a magnificent colourful climax on the first Monday in August every year, a day called – 'Kadooment Day'.  Thousands of people parade in 'bands' along a predetermined route in sequins, feathers and jewels, dancing behind music trucks and drink trucks to the sounds of soca. It is an absolute must experience if you want to fully immerse yourself in the best of Bajan culture.
Rum Tasting Tours 
Sun, Fun and Rum! There are many rum tasting tours to choose from in Barbados – the island that invented rum. The Mount Gay Rum Tour is located in the heart of Bridgetown and is fun for all ages. The award-winning Foursquare Rum Distillery is located in St. Phillip. There is no charge for the self-guided tour around the distillery and a small charge for the rum tasting session. Another beautiful and historic spot for rum tasting is at St. Nicholas Abbey in St. Peter.
September 
Sea Turtle Hatchlings
There are few things more magical than watching a hundred plus baby sea turtles make their journey to the sea for the first time. September is peak sea turtle hatching season. Follow the Barbados Sea Turtle Project on Facebook for hatchling release dates or to volunteer for a sea turtle watch. Palm Beach is one of the most popular nesting beaches on the island making it very likely that you will witness this miracle if you book a stay at one of the beachfront Condos at Palm Beach. 
Summer Specials 
September is the quietest month in Barbados, making it a great time to visit if you are not a fan of crowds. Another perk of travelling to Barbados in September is the number of summer specials. Restaurants, tours and even day spas all seem to have their best specials in September. Many restaurants will have a fixed 3-course menu for a reduced price. Champers restaurant is known for their incredible food, ocean view and summer specials and is one of our must-visit restaurants.
We also offer summer discounts on accommodation when you book direct. Email info@realtorslimited.comfor this year's summer specials and rates. 
October 
Food & Rum Festival 
Tantalize your taste buds with the flavours of local and international chefs and mixologists. This annual festival begins with a cook-off in Oistins, a food and rum pairing event on Friday night followed by an afternoon of canapes and spirts at polo on Saturday. Saturday night is all about the fine-dining experience. Sunday is the festivals' climax with a beach party followed by a final fine-dining experience at a local restaurant. Book your tickets to Barbados to attend this year's Food & Rum Festival.  
Lickrish Food Tours
Foodies unite! The best way to learn about a culture is to taste it. Become enlightened with interesting facts about the island while enjoying local bites on this walking tour of Bridgetown. The signature tour is from 11 am to 2 pm and is $80 USD / person and includes eight tasting bites and sips.
November
Independence Month 
Barbados celebrates its Independence Day on November 30th. Every November the island lights up buildings, roundabouts and houses in blue and yellow lights. The most spectacular nighttime site is the parliament buildings and surrounding area in Bridgetown. There are a number of cultural events to look out for including NIFCA (National Independence Festival of Arts) and the Independence Day Parade. November is also the month that Bajans eat conkies, a traditional treat made from corn flour, pumpkin, coconut and sweet potato wrapped in a banana leaf and steamed.
Open Water Festival 
Fantastic swim conditions in November make Carlisle Bay one of the most magnificent open water swims. Every November hundreds of swimmers from around the world fly to Barbados to take part in the Open Water Festival. The 2023 festival will feature 1.5K, 3.3K, 5K & 10K swims. The races are a wonderful mix of ages and abilities, serious swimmers and swimmers just there for enjoyment.
December 
Run Barbados
"Come for the run, stay for the fun." Run Barbados marathon weekend begins with the Family Fun Mile Run with prizes for best costumes. Things get more competitive as the 5K and 10K run kick off on Saturday. The Sunday is where it gets serious with local and international runners competing in the half marathon and full marathon. There will also be a 5K walk for charity in aid of the Heart & Stroke Foundation of Barbados. Get up and get moving in the beautiful and scenic, Bridgetown, Barbados.
Christmas Celebrations
Trade a white snowy Christmas for a white sandy one in Barbados. The Christmas spirit is alive and strong all December long. Carols play on the radio and homeowners and businesses decorate their properties with lights. Attend the annual Carols by Candlelight or Carols at The Abbey events to raise money for awesome causes like the Pediatric Ward at the QEH hospital. On Christmas morning locals and visitors gather in their 'Sunday Best Dress' at Queen's Park where the sounds of Christmas tunes fill the air thanks to the Royal Barbados Police Force Band. It truly is the most magical time of the year.
No matter the time of year, Barbados is always a good idea! Reach out to our team at info@realtorslimited.com and we will help you book your accommodation, tours, reservations, festival tickets and more.